About Employment Law Services (ELS) LTD
Employment Law Services for Employers and Employees in Scotland, England & Wales
Founded in 2008, Employment Law Services (ELS) LTD is a multi-award winning legal services firm that specialises exclusively in the areas of Employment Law & HR. Our employment law team has been providing specialist advice on contentious and non-contentious employment law and HR issues for over a decade and our clients have benefited from our practical and purposeful guidance, which is aimed at delivering preferred outcomes for clients, whenever possible.
Based in Glasgow, Scotland, Employment Law Services (ELS) provides employment law services and HR support to Employers and Employees throughout the UK, from Aberdeen to London, from Manchester to Glasgow, and in all places in between.
Our Purpose
To prevent problems and protect the rights of clients by helping them navigate complex employment law and HR issues to ensure compliance with applicable laws and regulations and fair treatment.
Our Vision
To distinguish Employment Law Services (ELS) as a trusted business partner and leading provider of employment law services offering the right advice, the best possible outcomes, service excellence that consistently exceeds Client expectations, and exceptional value for money for client.
Our Mission
To help our Clients achieve peace of mind by leveraging our skills, knowledge and experience of operational challenges, complex employment legislation, and effective people management, to provide prompt, practical and purposeful employment law advice and HR support to deliver preferred outcomes for our clients whenever possible.
Memberships of Professional & Regulatory Bodies
Institute of Paralegals
All of our employment law practitioners hold practicing certificates in employment law and are members of are either members of the Institute of Paralegals (IoP). Employment Law Services (ELS) LTD is also a corporate member of the Institute of Paralegals (IoP) which demonstrates the company's commitment to professionalism and assures prospective Clients that they are dealing with a quality assured business, benchmarked against independent quality standards especially designed for the legal sector.
Professional Paralegal Register
Employment Law Practitioners with practicing certificates in employment law who are regulated by the Professional Paralegal Register (PPR), giving clients confidence and peace of mind knowing they are being advised by certified and regulated employment law practitioners who are authorised to undertake legal work, who are recognised as specialists in their field, and who work to the highest professional standards of service.
Glasgow Chamber of Commerce
The Glasgow Chamber of Commerce is one of the oldest Chambers of Commerce on the world, and Employment Law Services (ELS) are proud to have been a member since 2009.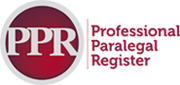 Specialist you need. Experience you can trust.
Company Information
Employment Law Services (ELS) LTD is registered in Scotland with company number SC352618 and our registered office is located at 2nd floor, suite 5, Merlin House, 20 Mossland Road, Hillington Park, Glasgow, G52 4XZ.
Book a Free Consultation
Our specialist employment law team can advise on a full range of employment issues including unfair dismissal, redundancy, settlement agreements, discrimination and contractual disputes. Contact us on 0800 612 4772 or use the button below to book a free consultation with one of our employment law specialists.
Book Now